Ligi kuu Bara
Van der Pluijm: 'Yanga will face a different Singida United'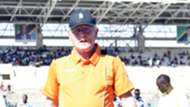 Singida United will be having another tough task to do when they face the reigning champions, Young Africans on Saturday.
The clash is expected to be more entertaining as it will be the first competitive match between the two teams to be played at Singida's home soil.
After being forced to draw 1-1 at home by Simba last Saturday in their eith game of the season, the Jangwani outfit will be looking for nothing but three points against their former coach.
Pluijm told Goal, it is crucial for his side to win the game, because it is the first time his players will be playing in their home soil since the league has started after completion of stadium maintenance.
"I am the one who signed most of Young Africans players and all the success they have is because of me, But I'm now in Singida, and I respect my job because it is where I get my bread, my goal is to win with Singida," said Pluijm.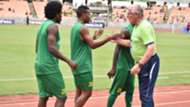 The Dutch admitted that the Ligi Kuu Bara champions are good team and they are playing at their best performance even without their main stars Donald Ngoma, Thabani Kamusoko and Amissi Tambwe and they are improving in every game. But he warned that Singida is not a team to beat.
Under Hans van der Pluijm Singida is fifth in league standings with 13 points, and if they win the Saturday clash they can climb further depending on the goals they will score, but only if Simba, Azam FC and Mtibwa lose their games which will not be easy.
---
Ngoma, Kamusoko and Tambwe injuries a blow for Yanga!
---
Young Africans will be on the road to Singida on Thursday for Ligi Kuu Bara clash against their host Singida United which will be held at Namfua Stadium.
The clubs' spokesman Dismas Ten told Goal, preparations are almost done for their team and ready for Singida trip hoping to come out with all three points.
"We are training everyday after our draw against Simba and we are also doing gym exercise and yesterday we train at Uhuru Stadium and we are hoping for the best against our next round opponents, a win," said Ten.
Absence of their stars who are still sidelined because of injury means the pressure will be on Ibrahim Ajib as their main man, and he will be looking to add more goals on his Yanga career after failing to do so against Simba last weekend.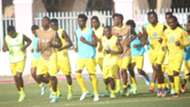 Yanga, who were held to a 1-1 draw by Simba at Uhuru in the weekend, head to Singida to face United who earned a point away against Mtibwa Sugar.