U17 World Cup
Under-17 World Cup: Colombia's Orlando Restrepo – Improving the quality of players is very important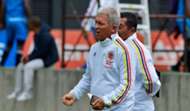 Colombia are to face Ghana on Friday in Under-17 World Cup's Group A fixture at the Jawaharlal Nehru Stadium, Delhi.
Coach Orlando Restrepo was asked as to what was the mood in the camp before they play their first game in the world youth competition.
"Just as the body has different parts and everything is connected. So similarly our team is very united," was his response.
On being questioned about the African teams in particular who are very strong in physique, Restrepo said, "Yes, we have an experience of that.  We have plans to move forward. We will play against three teams – India, Ghana and USA. We are focused and working on everything. That's our plan."
"All the teams have their own style and strategies. For us, all the teams in the World Cup are strong. We will also perform in a strong manner. We want to improve the quality of the players which is very important. We accept that teams have their own plans.
With Delhi being amongst the most polluted cities in the world, Restrepo was asked to comment on whether it has affected his team given that they have been in India for almost two weeks.
"It's a general tendency when you play with others and you have to adjust to it. Our concentration is only on football. We are not getting affected by anything. We are only focusing on football. We will not give any excuses per say."
Thomas Gutierrez mentioned that he was pleased to have been afforded an opportunity to play in the World Cup.
"Certainly we are happy to be here. We are looking forward to play a good game. There is some pressure as the hosts (India) are also playing in our group. Certainly, we will do our best and look forward to playing in the World Cup."