KPL
Ulinzi Stars coach Dunstan Nyaudo hails substitutes' impact against Nakumatt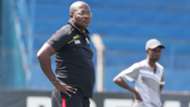 Ulinzi Stars coach Dunstan Nyaudo has hailed the game changing show of second half substitutes during their 3-2 win over Nakumatt.
A slow start to the match saw Ulinzi Stars trail in the opening ten minutes but recovered well from the early concession despite losing Masita Masuta to injury in the 22nd minute.
The introduction of Oscar Wamalwa and Cliff Kasuti was the key to the soldiers' vital win and coach Nyaudo was left satisfied.
Wamalwa, who replaced Masuta chipped in with two goals and an all round great show that troubled Nakumatt defenders, while second half Kasuti won a penalty slammed home by Wamalwa.
"A substitute holds the key to changing the game and I am happy that this season, my subs have been working well. A player coming from the bench or from outside the team will always work because he wants to maintain a place in the team.
"Oscar was out for three matches and going in he knew he had to prove me wrong for leaving him out of the team in those games.
"Kasuti has also not started for three matches and we saw his impact when he got then chance. The important thing is to have good correctors on the bench; when you have them you will get what you want," Nyaudo told the club website.
Goalkeeper Jacktone Odhiambo was also a great contributor to the win with a series of fine saves, and his contribution on his first game of the season did not escape the coach's attention, and with two other quality keepers in the team – skipper James Saruni and Kenya U-23 ace Timothy Odhiambo – he admits to a headache in team selection.
"Jacktone played well, and I liked the way he commanded the defence. He is an experienced keeper and made a lot of good saves. The best department I have in this team is the goalkeeping – Timo and Saruni are equally good keepers and at times it gives me a headache in selection."