U17 World Cup
U17 World Cup- Santiago Denia: Spain did the job almost perfectly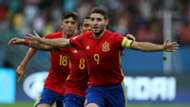 La Rojita booked their place in the semi-finals of the FIFA U-17 World Cup 2017 with a scintillating 3-1 win over Iran in their quarter-final clash at Kochi. Abel Ruiz scored in the first half before Sergio Gomez and Ferran Torres sealed the game for Spain in the latter to drain confidence off an unusually defensive Iranian attack. Substitute Saeid Karimi scored the consolation goal for the Cubs.
Speaking on the result, Spain's gaffer Santiago Denia applauded the efforts of his young guns by terming the performance as flawless. ''I believe we did the job almost perfectly. It's important for us to have qualified for the semi-final. I want to highlight the performance of the players,'' he expressed.
The Spaniards, who were leading by a goal at the half-time whistle, could have slotted another, believed Santiago. ''We knew it was very important to begin the match very well. We knew that trying to play through the inside of defense is going to be difficult. We had chances to score the second one in the first half. In the second half, we knew they would have to move forward and we will then have spaces to attack,'' he explained.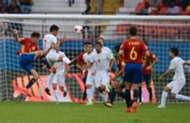 The Iranians are known for their speedy attack and on being asked how Spain managed to contain the Cubs, Santiago answered that it was important to spread the players over different sections of the park. ''It was clear to us that if you attack or if you are very direct in attacking Iran, especially through the middle; we might give chances to counter. Key of the game was to field more players on the sides of the fields. We are strong in defending through the middle. However, we are still conceding goals so we have to improve in the last third.''
The Spanish side will now lock horns with African giants Mali in the semi-finale on 25th October at Navi Mumbai. Sergio Gomez's inclusion for the tie remains unknown as the side is awaiting response from the medical staff. Discussing the all-important upcoming clash, Santiago commented, ''Mali, as any African team, is fast and have a strong game in transitions. From tonight, we are going to start preparing for them.''
As for losing contingent Iran, their coach Abbas Chamanyan believed that his team had a poor start to the tie. ''We did not start the match good and well. We must not forget the Spain is a high-quality team,'' he asserted.
''It is absolutely true that we had too much respect for Spain. We did not start good. You know our players are still young. But I think in the second half our players tried hard and earned more. Our big problem is the connection between defense to attack,'' Abbas signed off.