U17 World Cup
U-17 World Cup: India's Amarjit Singh – My dream will be realized against USA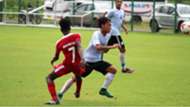 India's Amarjit Singh is focused on the task at hand as they gear up to face USA in their Group A opener against USA on Friday evening.
The 16-year-old was asked if players were affected with some not making the cut in the final 21-member squad for India.
"Those who left and came, we are all good friends. The world cup is something about which we are focused on.  Friends, we can meet later, after the World Cup.
"In any sport, to play the World Cup is a dream for any athlete. My dream will be realized tomorrow. 60000 fans will come, Indians will watch the game across the country. Supporters are also needed and are important. We will give our best. The result, we will see later," he said.
He was questioned on his journey with the Indian national team over the last two years since he joined from Chandigarh Football Academy (CFA).
"The journey has been good and bad so to say. Bad because we have sacrificed by staying away from family and friends and good because we will get to play in the World Cup. We don't know when this chance would come next. For the very first time, the World Cup is happening and our job is to give the best."