U17 World Cup
U17 World Cup: Mahatma, Mexico, Mario and the Mother: El Tri hope for saintly intervention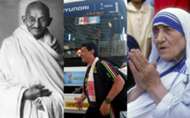 It would appear strange that Mahatma Gandhi and Mother Teresa featured alongside football stategies on the dossier of Mexico head coach Mario Arteaga for the U17 World Cup but in reality, it is not a mis-match.

Bapu did have a tryst with football, but that was not far from home in South Africa. For those who are well acquainted with the streets of the big cities in Mexico, the 'Father of the nation' does enjoy a larger than life figure than one would imagine, miles away on some foreign shores in Latin America.

Roads named after him, full size busts and a chain of bookstores - all bear Gandhi. His preachings of non-violence and the Gandhian way of living was quite in vogue and remains so for the accordious Mexicans.

The apostle of peace and kindness, Mother Teresa who was based in Calcutta visited the north-western border town of Tijuana four times helping branch out her Missionaries of Charities - appearing no less than a Messiah to the underprivileged of the nation.

Confessing the fact that the team has not had much time to explore either of the cities they have been based in; first Kolkata and now Guwahati. But, they have brought their little piece of India back from home - ideologies of the nation's two most popular figures across the globe.

"There are so many important personalities in India. But for Americas there are two foreign persons, Gandhi and Teresa who represent India whom they admire in the entire Americas, especially in our country. They want to know as much as possible about the two", Arteaga said in a press conference held in Guwahati - leaving scribes with more questions than answers, initially.

Mexico entered the World Cup as one of the more fancied teams, given their recent history of finishing in the last four in each of the past three editions and also lifting the trophy in 2011. However a 1-1 draw against Iraq and a 2-3 loss against England have made them look puny in stature.

Another draw guarantees a Round of 16 spot for El Tri Ninos but Chile, who have lost both their games will be desperate to revenge their 3-1 loss to Mexico from earlier this year in August. The Aztecas though, will hope for a repeat.

 As Arteaga himself said, "Sightseeing and looking at the cities can wait. It's very important to focus on the tournament as much as possible." Otherwise, the Mexican contingent will have to quench their thirst of knowing more about these two figures back at home.

Or, the blessings could work and Arteaga could lead his boys to the Missionaries of Charities headquarters in Kolkata after 28 October and make a quick pit-stop at Sabarmati Ashram before they fly out to Mexico City.