Transfers
Hamburg's Walace still optimistic about Flamengo loan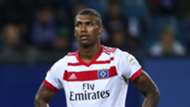 Hamburg midfielder Walace has not given up hope on joining Flamengo despite talks between the two clubs breaking down, Goal understands.
The Brazil international moved to the Bundesliga from Gremio for €9.2 million in the summer, but has only played 12 games for HSV and is already eager to find a way out of the club.
Hamburg had been in negotiations with Flamengo about a loan deal, but the two sides could not agree on the length of the temporary, switch with the Brazilian club looking to keep the 22-year-old until December. Hamburg were only willing to loan him until the end of the season, leading sporting director Jens Todt to confirm that the move had been called off.
"We will not lend the player to Flamengo," Todt told Kicker. "The player is of course massively disappointed. We now assume that he will stay with us."
Hamburg had hoped to sell the defensive midfielder and recoup some of the money they spent on him last summer, and thus were unwilling to let him leave for 12 months. However, Goal understands that Walace is still confident a deal can be brokered.
Walace is eager to join Flamengo, having supported the club as a child, and would like to represent them in the Copa Libertadores. It is believed that if Hamburg can bring in a replacement for him during the transfer window that they would be willing to re-open talks with Flamengo, and let him leave for longer than six months.
Hamburg have been linked with RB Leipzig midfielder Dominik Kaiser, and a move for the 29-year-old would pave the way for Walace to join Flamengo.
Atletico Mineiro were also reportedly interested in signing Walace, but do not seem able to buy him on a permanent deal, with Todt and Hamburg resigned to a loan should he leave the club during the transfer window.