PSL
Thohoyandou Stadium approved by the PSL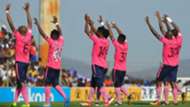 The Premier Soccer League Executive Committee led by Professor Ronnie Schloss has finally given Black Leopards the green light to host their home games at the Thohoyandou Stadium after multiple inspections.
The approval was announced on Friday by Leopards after the club toggether with Thulamela Municipality worked tirelessly to renovate the venue and ensure that it met the PSL standard requirements.  
However, Leopards' attempt to play their next home game against Orlando Pirates next week Tuesday on the 28th of August in front of their real home supporters has been denied, meaning the game will take place at the New Peter Mokaba Stadium as initially planned.
"Football is coming home, our prayers have been answered," said Leopards in a Tweet. "The Thohoyandou Stadium known as the slaughter house has new seats, proper exits & entrance, dressing rooms, the pitch and the floodlights."
The Venda-based side played all their National First Division (NFD) home fixtures during the 2017/18 campaign at the Thohoyandou Stadium, winning 11 out of their 15 home matches and gaining promotion to the PSL via the play-offs.
According to Leopards, private companies from around Thohoyadndou such as MTG and Spar played a big part in helping them with the renovations with Thulamela Municipality managing the project and the Department of Public Works providing the necessary labour.
During his inspections, Schloss did indicate that he was positive that Thohoyandou Stadium would meet the requirements based on the amount of work that was done even though he didn't have the final word.