PSG
The world reacts as 'Donatello' Mbappe is in the thick of the action on his PSG debut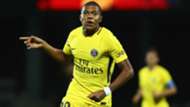 It is fair to say that Kylian Mbappe enjoyed a fairly eventful first match as a Paris Saint-Germain player! 
With the eyes of the world on him after becoming the most expensive teenager in football on leaving Monaco, Mbappe finally got the chance to show what he could do for his new club. 
PSG 2/1 to win CL in next 3 years
And whether it was crossing in for Edinson Cavani in stunning style, provoking a red card tackle or netting himself to put PSG in the lead, there was rarely a dull moment for the teenager. 
His every step was keenly watched by fans on social media, who found plenty to talk about as his debut unfolded - not least his apparent resemblance to a Ninja Turtle...
Mbappe Gollll pic.twitter.com/M1XLMaEveL

— Crochet Crochet (@EscoMus) 8 de septiembre de 2017
Mbappe scores on his debut. Don't know why he is getting booed he did nothing wrong it was a refereeing error. #Ligue1

— Fire The Bellas (@bainalan05) 8 de septiembre de 2017
Last four players to score in their Ligue 1 debut for #PSG , reverse order: Kylian Mbappé, Neymar, Julian Draxler, Zlatan Ibrahimovic.

— Gracenote Live (@GracenoteLive) 8 de septiembre de 2017
59' BUUUUUUUUUT de @Kmbappe !!!! #FCMPSG pic.twitter.com/VdS3rWbrNs

— PSG Officiel (@PSG_inside) 8 de septiembre de 2017
The first of many!

Man of the moment Kylian Mbappé caps his PSG debut in style with a fine finish. pic.twitter.com/hCyQ7K1L5A

— BT Sport Football (@btsportfootball) 8 de septiembre de 2017
Neymar when Mbappe wins the Ligue 1 Player of the Year & Ballon D'or 2017 pic.twitter.com/03OhS5cbno

— ZizouReem (@Zizoureem) 8 de septiembre de 2017
Mbappe is so good at 18, I don't understand

— Kacper (@kacperisztok7) 8 de septiembre de 2017
If he keeps doing this well during his loan spell at this small club in Paris, Mbappe might force his way back into the Monaco team...
 

— John Bennett (@JohnBennettBBC) 8 de septiembre de 2017
Don't let the fact that Kylian Mbappe scored v Metz distract you from the fact that he looks like Donatello from Mutant Ninja Turtles

— Mr X²³ (@Girouzy) 8 de septiembre de 2017