Premier League
The ultimate football app: Goal+ is available on the brand new Samsung S9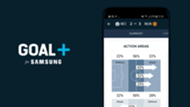 The Goal+ App is better than ever on the brand new Samsung S9!
Continuing its exclusivity with Samsung, Goal+ is the ultimate football app for stats and live coverage, covering all major European competitions.
Goal+ is powered by the best of Opta performance data, providing fans with real-time visualisations and unique comparison tools for the game's major football leagues.
And the app is working for you at all times. Even when your S9 device is facing down, the curved edge of the Infinity Display will light up green if your team scores and red if the opposition find the net. 
---
TRACK ALL THE ACTION - LIVE!
---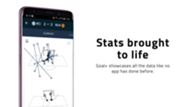 At the game and keen to understand exactly where the game is being won and lost?
The Goal+ app brings the narrative of each game to life, visualising the action from every area of the pitch with its unique and engrossing live match screens.
---
SETTLE THE DEBATE
---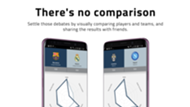 Struggling to convince your mates that your favourite player is better than theirs, that one team trumps another? 
Goal+ not only allows you to analyse statistical breakdowns of the major players in world football, but also offers you the option to compare and contrast the leading individuals and teams - and then share that data with your friends.
---
STUNNING INTEGRATION ACROSS DEVICES
---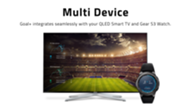 The Goal+ app also comes to life across your other Samsung devices. Use it in conjunction with your Gear S3 to receive goal alerts straight to your wrist, while pairing it with your QLED Smart TV will allow you to enjoy a live statistical overlay on the game you're watching!