NXGN
The mad dash to the top - Meet Barcelona and Man Utd target Dayot Upamecano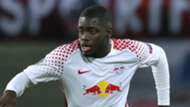 Pierre-Emerick Aubameyang had a 10-yard head start.
One of the quickest players in Europe, the then-Dortmund striker dashed full-speed into the space ahead. Leipzig were in trouble.
But then arrived a saviour - at 34.3 km/h, no less. 19-year-old Dayot Upamecano is yet to slow.
Leipzig's youngest ever Bundesliga player, the French defender has raced to the top of shopping lists all over the continent since arriving in Germany from Salzburg in January 2017.
But not everything came so quickly for the Barcelona and Manchester United target.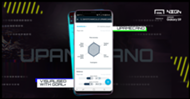 Born and raised in Evreux in Northern Normandy, he honed his skills on the concrete playgrounds alongside Ousmane Dembele, who was a year above Upamecano and came through the same Evreux FC youth setup.
But while Dembele's natural gifts were there to see from the outset, Upamecano initially struggled to reach the high technical standards of those around him.
"I have worked a lot, that is my recipe [for success]," he told Bild. 
That work ethic has seen him establish himself as one of the most promising teenagers in world football – and as one of the leading defenders in the Bundesliga this season.
He rates in the top six among Bundesliga defenders for both recoveries and interceptions this season, and in the top five for headed clearances.
He's started 22 of his side's 29 league matches this year and has been one of the breakout stars of the season, which he hopes will end with a Europa League title and qualification for the Champions League.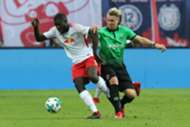 More success would raise his profile further, and Europe's elite are circling. "Two years ago, I said that Dayot, someday, can play for any top club. He's got the pace, he's cool and he's a great footballer," said Sporting Director Ralf Rangnick in November.
"But I have the big hope with Dayot that he will remain here for a few more years. He, his agent and his parents have made good and right calls until now."
With a reported €100 million release clause, luring him away from Leipzig will be no easy task. And the teenager himself insists he is happy where he is – for now.
"I see no reason why I should go away," he said. "I have a huge opportunity to develop and get my playing practice regularly," he said in February.
It's been a mad dash to the top for the pacey teenager, who may just be ready to ease off the accelerator as he contemplates the next phase of his career.
Get Goal+ for your Samsung device now - it's the ultimate stats app for fans that features real-time performance data and is now available on the hottest new mobile device