African All Stars
'The Arsenal way will always belong to Arsene' - Lauren gushes over Wenger's legacy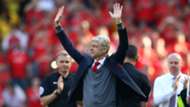 Former
Cameroon
international Lauren has praised
Arsenal
outgoing manager Arsene Wenger for leaving a remarkable legacy at the club.
The Frenchman led the Gunners to a 5-0 victory over Burnley in what was his last home game in charge of the team.
And Lauren, present at the Emirates on Sunday alongside his fellow Invincible class of 2003-04, highlights what stands his former gaffer out from others who have managed the club, despite being faced with a lot of criticisms before bringing his 22-year stay to a halt.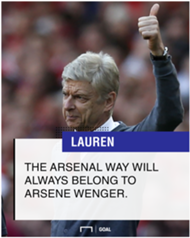 "His legacy I think people will value it in the years to come," Lauren told club website.
"So far people can be short-minded because of what happened a few days ago but I think in the long term, the next five years, people will value it and will know that he came and transformed this football club for Arsenal.
"The Arsenal way will always belong to Arsene Wenger. He transformed them into a new style of play. He makes the full-backs come up, he makes the two centre-backs come forward, he transformed Gilberto Silva who was a centre back into the middle, he put Thierry Henry who was playing on the left as a striker.
"They play on the ground football with style so it's his legacy and it's the Arsenal way."
Lauren joined Arsenal in the summer of 2000 and played in both defensive and midfield positions. He amassed 157 appearances, scoring seven times before joining Portsmouth in January 2007.