Manchester United
That's amore! Has brilliant Hamsik made a mistake staying at his beloved Napoli?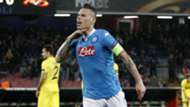 ---

COMMENT 
---
Just minutes after the conclusion of Slovakia's Euro 2016 clash with Russia last week, Juraj Venglos' mobile phone began buzzing incessantly. Something was up. The agent had been watching on proudly as his most famous client, Marek Hamsik, collected the man of the match award for a sensational showing in Lille marked by a wonderful assist for the game's opening goal and then a thunderous strike that ultimately decided the contest in Slovakia's favour.
However, what Venglos had not seen was Jan Kozak's post-game press conference. Asked to evaluate the crucial contribution of his star player, the Slovakia coach had replied: "He deserves a bigger club for his performances at the Euros. I think Napoli has become too small for him. He deserves to play at a really big club."
That claim immediately prompted what Venglos' described as "an avalanche" of texts from Neopolitan journalists, who desperately wanted to know if Hamsik shared the view that he had outgrown the San Paolo.
Venglos was also contacted by several high-profile clubs. "I won't be specific [about which ones], as Marek has a contract with Napoli," Venglos stated. "His value was already high and it certainly won't have gone down after this. But he's well known, there have always been offers and it's the same in this transfer window."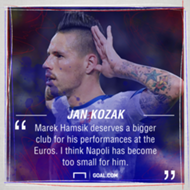 Indeed, Hamsik has long been regarded as one of Europe's finest midfielders and thus linked incessantly with a move away from Napoli, with Manchester United, Chelsea and Arsenal all having previously courted him. He has resisted all advances to date, declaring himself "married" to the Partenopei, whom he joined in 2009.
However, Venglos' comments have unsurprisingly sparked a debate over whether Hamsik's loyalty could hold him back; prevent him from realising his full potential. He is, after all, set to turn 29 next month; he is unlikely to receive as many offers to move to an elite European club next summer. He is presently at the peak of his powers, as he is underlining in France.
He has performed wonderfully well to date, helping Slovakia reach the last 16 with a stellar showing against the Russians and a composed, disciplined display in the crucial draw with England. This is a player clearly capable for playing for any of the game's top sides; one that is now enjoying his football more than at any previous point in his career.
Kozak has played his part in that regard, having made Hamsik the main man in his Slovakia side upon his appointment as coach in 2013. Before then, the former Slovan Bratislava starlet had been used in a variety of positions. As a consequence, he suffered. In every sense. He performed poorly and was accused of a lack of effort by his nation's fans. Now, though, jeers have been replaced with cheers when he takes to the field to represent his country.
However, Hamsik is also reaping the benefits of Maurizio Sarri's arrival at Napoli last summer. The 28-year-old had lost his way under previous boss Rafael Benitez, who had tried to turn him into a trequartista. Hamsik was uncomfortable in the role and looked utterly confused at times. He could not work out why he was so regularly playing with his back to goal, particularly as Benitez had initially heaped praise upon his performances in an orthodox central midfield role.
Indeed, Benitez had claimed that Hamsik was more "tactically intelligent" than Steven Gerrard, a player with whom the Slovak has so often been compared, and once asked: "Is [Gareth] Bale worth the €100 million Real Madrid paid for him? If so, then I'd say you can't put a price on Hamsik."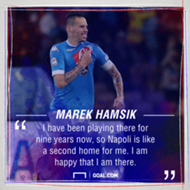 However, Hamsik floundered in a more advanced position under the Spanish coach. He was playing further forward yet scoring fewer goals, managing just seven in all competitions during the 2013-14 season - the worst return of his Serie A career to date.
"When you get subbed in every game at the 60th minute, you cannot be happy," Hamsik conceded at the time. "But, as a professional, you have to respect the coach's choice."
Hamsik had no respect for Rafa, though, and he was as enthused by the Spaniard's departure for Real Madrid last summer as he was by the appointment of Sarri. The former Empoli boss immediately restored Hamsik to a deeper role, while also giving him the freedom that Kozak had so wisely afforded him.
That positional change was thoroughly vindicated. Hamsik racked up six goals and seven assists in Serie A alone last season but the greater control he was able to exert over games from the middle of the park was what really drove Napoli's title challenge. Happily, he has taken that form with him to France.
As a result, it is not surprising that Venglos' phone is now ringing non-stop. His client has more suitors than ever before, with Manchester United and Chelsea currently casting admiring glances Hamsik's way. However, he is settled at the San Paolo.
"I have been playing there for nine years now, so Napoli is like a second home for me," he recently told The Guardian. "I am happy that I am there."
Perhaps Rafa got one thing right, after all: you can't put a price on Hamsik.