Super League
Pahang president apologises to fans on 2016 season, takes all the blame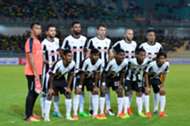 ---
BY         NIK AFIQ        Follow on Twitter
---
The President of Pahang Football Association (Pahang FA). Tengku Abdul Rahman ibni Sultan Ahmad Shah has publicly apologised to the fans and admitted that it was his mistakes that led to the squad's poor performance last season.
The Elephants struggled in the 2016 season, surviving relegation to compete in the top tier this season by some controversial punishment meted out to Kedah, having to abort a privatisation move, and Tengku Abdul Rahman explained to the fans the reason for this during Pahang Super Fans Carnival 2017 at the Temerloh Stadium lst weekend.
"Allow me to explain what happened to our club last season. I would like to take this time to apologise to all Pahang fans for the poor performances from the squad last season.
"I will explain the reason in the simplest way. After winning the Malaysia Cup title [in 2015], a lot of clubs were looking at our players.
"We cannot blame our players (for leaving). They also want to look out for their own future.
"With plenty of players leaving the club, I admit, it was my mistake by not planning ahead to face this issue. But the players didn't give me any chance to renegotiate with them as well.
"And because of that, with the limited fund that we had, we had to use our young players to play in the first team and thankfully, we managed to survive to compete in the MSL for another season."
Tengku Abdul Rahman also promised the fans that he will do whatever he can to take Pahang back to the top again, and urged the fans to keep supporting the team.
"For the past eight to nine months, I accepted all criticism pointed towards me with an open heart and I don't want to point the blame to anyone, it was my fault.
"But now, we will rise again. I will use all my strengths and resources and this year, we will strive to be at the top once again.
"I want to invite everyone, together with me, to keep supporting our team because they won't be able to continue fighting without your presence and support," added Tengku Abdul Rahman.
Pahang have introduced several new players for the upcoming season during the carnival, including former Malaysia internationals Muslim Ahmad, Wan Zaharulnizam Wan Zakaria, Christie Jayaseelan and Joseph Kalang Tie.