Terengganu II
T-Team in disbelief amidst impending revamp, just days after beating relegation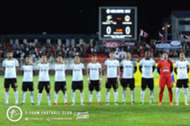 ---
BY        ZULHILMI ZAINAL       Follow on Twitter
---
Just days after they beat the drop by holding Sarawak to a goalless draw in their last 2017 Super League match, T-Team FC will undergo a revamp for the next season.
The Terengganu state government, which funds Terengganu-based professional teams T-Team, recently-promoted Terengganu, and third-tier side Hanelang FC are seeking to reorganise the structure of these teams, and some alleged decisions are already making the Titans uneasy.
According to rumours, T-Team will be renamed Terengganu II, with the traditionally more established Terengganu designated as the main team. Although the Titans are not a feeder club of Terengganu's in any official capacity, the two sides have frequently swapped players over the years. They also share the same home ground; the Sultan Ismail Nasiruddin Shah Stadium in Kuala Terengganu.
As the traditional side, Terengganu had been viewed as the premier club in the state and received better fans' support and larger funding, although that status quo was upended in the 2017 season when Terengganu were relegated to the Premier League. However the Turtles have won promotion for the 2018 season, and next season's Super League is expected to feature two Terengganu-based sides again.
State youth, sports and human resource executive committee member Datuk Rozi Mamat confirmed to Berita Harian that the revamp move will be undertaken because neither Terengganu sides have made any significant achievements in the past decade, although he did not touch on any rebranding move.
On Monday evening, the club took to the social media with several cryptic posts, hinting at their disbelief at the revamp.
feeling confused

— T-Team FC (@OfficialTTeamFC) October 30, 2017
Even their youth team joined in on the action, coming up with another allegation. In the comments section of the earlier-mentioned Facebook post, T-Team U21's social media account directly asked about a rumour that their youth team will be disbanded as part of the revamp. The question was not answered by anyone, although fans responded by sharing their commiseration and lambasting the revamp.