African All Stars
Swansea City's Paul Clement urges Tammy Abraham to exercise patience with teammates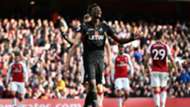 Swansea City's manager, Paul Clement has urged Tammy Abraham to be patient with his teammates after the Anglo-Nigerian expressed disappointment during their 2-1 defeat to Arsenal on Saturday.
The 20-year-old assisted Sam Clucas for the first goal of the outing before goals from Saed Kolasinac and Aaron Ramsey saw the Gunners snatch the maximum points.
In the first half of the encounter, Andre Ayew's decision to go for glory - when he could have passed to an unmarked Abraham - left the forward infuriated.
And the Swans' handler has appealed to the Chelsea loanee to contain his frustration at his teammates' errors.
 "You can look at that game and see some errors from Tammy, from Jordan, and our midfielders. There are errors going on all the time," Clement told Mirror.
"What you have to understand is that there are going to be mistakes made by him, by other players. You have to contain your frustration and move on to the next thing as quickly as possible.
"I think [Tammy] is developing well, it's going to be a big challenge for him this season. He is in a team that are towards the bottom end of the table having to fight every game.
"Not only will he learn things tactically, about the physicality of the Premier League. He's going to learn a lot about himself mentally this year because he's not at a top six club where you have more of the ball and you don't have to do so much necessarily defensively so it's a big learning experience for him," he concluded.