Premier League
Swansea City delighted by the return of Ghana star Jordan Ayew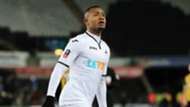 In his excitement about the availability of Jordan Ayew for Saturday's Premier League clash with Everton, Swansea City manager Carlos Carvalhal has shed light on the reason behind the striker's fine form this season.
Jordan had been out serving a three-match suspension for a straight red card received in last month's draw with Huddersfield Town.
His absence had been a big blow to the ambitions of the relegation battlers, considering his status as the club's top scorer so far this season with six goals.
"We just put Jordan in a position where he is comfortable and tell him to play with freedom and with a clear head," Carvalhal said.
"I am sure if you have a flower and you care for it with the correct amount of sun and the correct amount of water, the flower will be beautiful.
"All the flowers can be beautiful, but if they have too much sun or too much water, they will die.
"It's about having a nice environment for the players. They have to be in a comfortable position with smiles on their faces. Then they will do well."
In Jordan's absence, Swansea struggled for goals, having scored just once in the three games played.
Carvalhal's excitement is, then, certainly not out of place. 
"We have an important player coming back," the Portuguese coach added.
"To me, he is one of the best attackers in the Premier League and we are very happy to have him back.
"He makes a big impact in our team and we expect on Saturday that he can make an impact."
Jordan is expected to lead Swansea's attack, alongside elder brother Andre.