AIFF Super Cup
Super Cup 2018: Chennai City's Mohammed Akbar: Robbie Keane's off-the-ball movements troubled us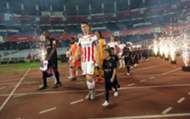 On Friday evening, ATK smashed Chennai City 4-1 at the Kalinga Stadium in Bhubaneswar to seal a date with FC Goa in the pre-quarterfinals of Super Cup. The result in the qualifying round was the second consecutive victory for player-manager Robbie Keane.
When asked if his appointment was what the club needed to get back on track, the Irishman replied, ''I got asked to do a job. I am not frightened of a challenge. I have never been, as a player too. The club needed someone to step in and I did so. Two good results in the last ten days have been good.''
Further, the former Tottenham Hotspur player commented that his side dominated the first half and reshuffled later in the game, which helped them secure the berth in the next round. ''The team played very well; we especially dominated in the first half. Lack of concentration in the last minute of the first half gave them (Chennai City) the chance to get back into the game,'' he explained.  
''This can be a big blow as it can lead to lack of confidence. But, I spoke to the players and asked them to regroup. To be fair, later we controlled the game. We kept the ball moving and scored four. They were some good goals and we played some good football,'' he added.
The 37-year-old found the net in addition to Hitesh Sharma, Zequinha and Ashutosh Mehta. The opposition's gaffer believed that the duo of Keane and Hitesh troubled his side. ''Hitesh Sharma and Robbie Keane impressed me the most. Because of his off-the-ball movements, Keane created a lot of problems for us by drawing boys out of position,'' revealed Mohammed Akbar.
Assessing the performance of the Southerners, Akbar admitted that the side fell prey to ATK due to individual errors. ''We had a good passage of play and I was pleased when we scored our first goal. But the second goal came through a mistake from our defence. Thereafter, the team was demoralized. I think after the second goal, the match went out of our hands,'' he said.
''We played well; there were just individual errors. For the second goal we conceded, we lost the ball in the midfield. If you lose the ball in that transition and in a one-on-one with someone like (Robbie) Keane, you concede a goal. We need to do better defensively in one-on-one situations. We need to differentiate between a safe and risky pass,'' added Akbar.
The gaffer mentioned that the Chennai-based outfit is looking to revamp the club. ''We are in a rebuilding process. We are looking at how we can shape the whole structure of the club. Such games like today help us to know where our level is. ATK showed us that but in all fairness; we competed at least until the 58th minute,'' he concluded.