Bengaluru
Bengaluru FC's Parth Jindal - Prize money belittles the importance of Super Cup!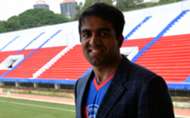 Bengaluru FC are one of the three Indian Super League (ISL) teams to have reached the quarter-finals of the inaugural Super Cup currently underway in Bhubaneswar. 
This particular development has been widely debated upon as I-League clubs, perceived to have lesser quality than their ISL counterparts, have largely dominated the Super Cup. But Bengaluru FC's CEO Parth Jindal has hit out at a lack of substantial prize money and a continental tournament spot, which he feels has contributed for a lack of desire among the ISL teams to compete in the tournament. 
Moreover, Jindal urged the All India Football Federation (AIFF) to schedule the tournament during the regular season as opposed to after it in the future. 
Jindal aired his views on social media and tweeted, "Only 3 ISL teams in the QF (quarter-finals) of the Indian Super Cup. Kudos to the I-League teams for making it to the QF - in all the matches it was very evident who had the desire."
He went on to state that the ISL finalists, however, are taking the tournament seriously. "We are different - we are Bengaluru FC and we will give it our 200 per cent to win.
"But I urge the AIFF to play the matches during the regular season and not after it and also to play in a format similar to the FA Cup (in England) and give the winners an AFC Cup slot like the Federation Cup. Then all teams will give it their all and fans will have a much better experience," he reasoned. 
Only Bengaluru FC, Jamshedpur FC and FC Goa have reached the last eight of the Super Cup with the rest of the teams biting the dust. 
He also lamented the meagre prize money on offer (INR 25 Lakhs) for the Super Cup. "(I) also urge the AIFF and IMG-Reliance to have a re-look at the prize money for the Super Cup. Creating such a wide difference between the ISL prize money, the I-League prize money and the Super Cup prize money does not give the tournament its due importance." 
Only 3 ISL teams in the QF of the Indian Super Cup, kudos to the @ILeagueOfficial teams for making it to the QF - in all the matches it was very evident who had the desire. We are different - we are @bengalurufc and we will give it our 200% to win but I urge the AIFF

— Parth Jindal (@ParthJindal11) April 6, 2018
To play the matches during the regular season and not after it and also to play in a format similar to the FA Cup and give the winners an AFC Cup slot like the Federation Cup - then all teams will give it their all and fans will have a much better experience

— Parth Jindal (@ParthJindal11) April 6, 2018
Also urge the AIFF and IMGR to have a re look at the prize money for the Super Cup - creating such a wide difference between the ISL prize money, the I League prize money and the Super Cup prize money does not give the tournament its due importance

— Parth Jindal (@ParthJindal11) April 6, 2018