NPFL
Sunshine Stars will subdue Osun United in Ijebu Ode, vows Alegbe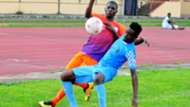 Sunshine Stars assistant coach Tony Alegbe believes his side will earn a favourable outcome over Osun United in a 2017 Federation Cup quarterfinal clash in Ijebu Ode.
Tosin Omeyele's solitary efforts helped the Oshogbo based side subdue Duke Udi's men in the first leg, quarterfinal of the competition on Wednesday.
And ahead of the return leg on Saturday, the coach assures that they will redeem their image at the Dipo Dino Stadium.
"It was a good game though we lost. No team can be underrated but it is far from over," Alegbe told media.
"The players of Osun United are not bad at all, they are young and hungry. Now we are back home to work on our lapses in the match. The field was bad and it affected our performance.
"We will have a good pitch to play and it will be an advantage for us. We have recovered from the defeat in Oshogbo and we will defeat them in Ijebu Ode to qualify."