Manchester United
'Sulky' Pogba slammed by Ince and Sanchez accused of making Man Utd 'worse'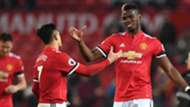 Paul Pogba has been branded "sulky" by Paul Ince, with the former Manchester United star admitting he can longer support a "disinterested" talent.
Amid the many questions an £89 million asset has faced at Old Trafford, the Frenchman has always been able to rely on a man who once graced the same midfield for backing.
Ince, though, has conceded that Pogba is leaving him with no choice but to join the critics, with his latest showing after stepping off the bench against Sevilla leaving a lot to be desired.
"A player I've never criticised is Pogba, he's been an easy scapegoat for a lot of United's poor performances. In fact, I've always backed him," Ince told Paddy Power.
"But [against Sevilla] I started to see why some pundits and fans moan about him. I'd describe his performance, in one word, as 'sulky'.
"He came on and looked totally disinterested. I can understand he was probably annoyed at Marouane Fellaini being chosen ahead of him, but you shouldn't take those frustrations out on the rest of the team and the happiness of the fans.
"Irrespective of what's going on, whether you've been having a tough time of it lately or you're feeling irritated at not being selected, you need to appreciate what an honour it is to be at United.
"And you need to put a shift in, if not for yourself but for the sake of your team-mates and loyal fans."
Another of those to have irked Ince with his recent displays is Alexis Sanchez, with a January arrival yet to offer anything to the United cause.
His signing has forced Jose Mourinho into tactical tinkering, with the Red Devils having looked more disjointed since welcoming the Chilean on board than they did before snatching him from under the nose of arch-rivals Manchester City.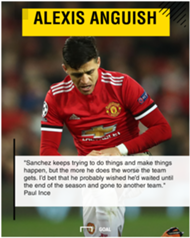 "Sanchez keeps trying to do things and make things happen, but the more he does the worse the team gets," added Ince.
"I'd bet that he probably wished he'd waited until the end of the season and gone to another team.
"It's evident, from watching United since he joined, that he doesn't suit how Jose Mourinho plays football. You could see him fitting in at Manchester City better.
"Maybe Jose's plan is to bring in players that do suit the way [Romelu] Lukaku, Sanchez and Pogba play, but how much more can you spend to satisfy other players?
"They need to look at themselves and how they're playing, rather than relying on others to help them out."