Stephen Constantine
Stephen Constantine - "My personal opinion is that the national coach should lead all the national teams"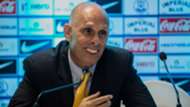 Stephen Constantine was content that his wards knew what they were required to do, even when they on duty with their clubs at a different level.

"We haven't had access to the players, so when they go back to the clubs (between national camps), it is a different level and intensity is different. The boys know what is expected," he said.

The Englishman relied on technology to keep track of his players in between the camps so that he could tailor the training to each individual player's requirement.

The club players, busy in the I-League held on home -and –away format, and Constantine are linked via technology. "We have an app by which we know what each player is doing at every club. They feed in the information, which comes to me and others (national senior team coaches and support staff). So when the player returns to the camp, we know what needs to be done and he can recover quicker than we did before," he explained.

The head coach spoke about the inclusion of youngsters Milan Singh and Jerry Lalrinzuala into the side while he highlighted that everyone has the chance to make it into the national side.

"They are young, quick and tough boys. They are here (national camp) now, does not mean they will be here tomorrow. It is a very good learning experience for them. We have had 30 players over two years, some are here and others are not. The door (into Indian team) never closes (on players), unless they close it," he opined.

Indian National Football Team: Stephen Constantine announced 24-man squad for Cambodia and Myanmar matches
Constantine who was in Goa for the India U-17 camp as he was the stop gap manager after Nicolai Adam had left, spoke about the need for continuity, "We need a continuation. The U-17 boys playing the World Cup will come into the U-19, then U-21. Players are being scouted at the Santosh Trophy (Senior Nationals underway in Goa)." 
He continued by stating that he thought it was prudent to have one man in charge of all the teams across all age groups to ensure an uniformity in philosophy.
"My personal opinion is that the national coach should lead all the national teams, in (football) philosophy, selection of coaches, methodology. They (talented age group boys) are going to come to him. There is a side to the argument which asks what happens when a national coach gets sacked. Till 17 years, the boys are learning different systems anyway. The philosophy may change (when a new coach comes in), but continuity is essential." he stated.

Ronaldo: Fading force or minor blip?

"The best example of continuity is Myanmar. They qualified for the U-20 World Cup 2015 on merit, average age on the senior national team is about 24 and have got a coach (former U-19 coach Gerd Ziese put in charge of Myanmar senior side) for the last eight years," he said, citing their opponents's progress on following this model. 
Aizawl FC currently lead the I-League but surprisingly have no representation in the national team probables. The 54-year-old reasoned out that he needed more time to assess the players before selecting them.

"I need to see players (before selecting). As a team, they are playing very well. I have a group of players I am comfortable with. For somebody to come in, they need to be better than what I have. I wish them (Aizawl) well and am sure in future, there will be players to catch the eye," he signed off.