KPL
Stanley Okumbi: KPL AllStars were better in first half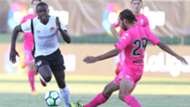 Kenyan Premier League AllStars coach Stanley Okumbi says the team has learnt a lot following Wednesday's thrashing by Cordoba.
The Spanish side scored four goals, with AllStars struggling to contain their opponents especially in the second half. Okumbi says the team will play better on Saturday.
"In the first half we played really well, my team matched them. But in the second half we did not stick to our plan and that gave them chances to score. We really conceded easy goals, goals that we could have prevented. However, my players have learnt a lot from the match.
"On Saturday against Sevilla, we will do better hoping to get a good result, it will be tough but we will give the best."
In February this year, a developmental Hull City side defeated AllStars 2-1.