Orlando Pirates
Sredojevic: Competition for places key to taking the Orlando Pirates' performances to the next level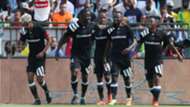 Orando Pirates head coach Milutin Sredojevic says competition for places at the club is key to taking the team's performances to the next level.
The Buccaneers recentlly played Zambia and an unnamed Mozambican team in a friendly matches in order to maintain the players' match fitness.
Sredojevic told Times Live that these games' even in the midst of a busy PSL programme' are vital in making sure he has players that are ready to be drafted into the team in the case of injury' suspension or loss of form.
"Because you never know who will go out [injured]' the power of a team is how good is your bench' so that when one player is out' you have an immediate replacement'" Sredojevic said.
"So having competitiveness between the players in every position' two to three players fighting' is something that is lifting the quality of the team and providing what is needed," he continued.
"You need to have players that are playing' and those that are pushing the players who are playing [in the starting XI]," the Serbian coach explained.
"If the ones pushing are not pushing enough' then the players starting will fall into a comfort zone. This is the nature of being at a big club like Orlando Pirates," he continued.
Pirates, who thrashed Mamelodi Sundowns 3-1 in Pretoria last weekend, will host Polokwane City at the Orlando Stadium on Saturday.
Rise and Shine knocked Pirates out of the 2017 Telkom Knockout Cup at the same venue last November.
"Every match is a new ball-game' we have the highest level of respect for Polokwane City'" Sredojevic said.
"In two matches we have played they have both been thrilling matches' 2-2' meaning they could score and we could score. But now we need to tighten at the back and be more effective in front of the goal," he added.
"We want to continue were we stopped against Sundowns," he concluded.