Tottenham Hotspur
Spurs star Son reveals anxiety during crucial Asian Games campaign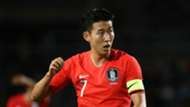 Tottenham forward Son Heung-min has admitted to suffering from sleep deprivation prior to captaining South Korea to the Asian Games title.
Victory in extra time over Japan saw Son and the entire Korean squad earn exemption from 21 months of military service.
Son missed Spurs' Premier League games against Manchester United and Watford as a result of South Korea's success but feels he made the right decision competing in Indonesia.
"Honestly, in the final I was a little bit nervous," Son told BBC Sport. 
"At night I couldn't sleep, I was very nervous.
"It was a gamble, but I was confident.
"I was very proud to win this tournament for my country."
Success for South Korea followed an eventful World Cup campaign in Russia which despite suffering a group stage exit included a win over defending champions Germany.
All South Korean men must complete just under two years of military service but exemptions are offered to athletes who achieve major sporting success.
Olympic gold medallists can earn immunity from call-ups, while South Korea's entire World Cup 2002 squad won exemption after they reached the semi-finals.
Son could have been called up in the next 18 months had South Korea failed to win the Asian Games.
Attempts to avoid being called up had been thwarted by former clubs Hamburg and Bayer Leverkusen, who refused to release him for the tournaments in 2010 and 2014.
Tottenham refused to stand in Son's way despite his exploits at the summer's World Cup, a decision the forward is grateful for.
"My managers at Hamburg and Leverkusen didn't let me go," he said earlier this month. 
"So I'm really thankful to the gaffer. He took the risk. I made it, but without him and without his choice, I couldn't have won gold. I'm thinking of a present for him!
"I'm looking forward to playing for Spurs. I felt sorry [to go]. It's my team. I've played for three years with my heart and missed four weeks of this season."