Transfers
'Special' Wenger can manager any top club in the world - Mertesacker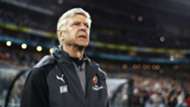 Per Mertesacker believes that Arsenal Wenger would be a good fit at Bayern Munich or any other top club due to his "very special personality." 
The 34-year-old played 156 times under the French boss after joining Arsenal from Werder Bremen in 2011 and thinks his former manager has a unique style in dealing with players that would allow him to find success at any top club.  
Wenger, who has stated that he misses coaching and would like to return in the new year, has recently been linked with Bayern Munich, with current boss Niko Kovac under pressure as the club has struggled in the Bundesliga this season.  
Bayern claim that they haven't considered an approach for the long-time Gunners boss, but Mertesacker thinks he would fit in well with the German giants should he be given the gig.  
"Arsene Wenger is a coach who has a very special personality," he said on DAZN.  
"He has an experience that not many coaches have, and all at one club, at Arsenal.  
"A coach like him, with his serenity and sovereignty, is imaginable at any top club in the world." 
Mertesacker also confirmed that Wenger in looking to return to management, as he says his former boss told him of plans to return to the touchline in January.  
"I like Arsene Wenger very much and I am happy for him that he is talked about again," he said.  
"He is a great coach and I know he wants to get to work again. He told it to me in person. He wants to start in January.  
"So this would be a little earlier now..." 
Bayern won big on Tuesday, topping Benfica 5-1 and locking down a place in the Champions League round of 16, but the club sit fifth in the Bundesliga, nine points back of leaders Borussia Dortmund. 
The Bavarians have also won just twice in their last five outings across all competitions, with Kovac's position growing more tenuous with every poor result.  
But Mertesacker says he hopes the former Eintracht Frankfurt boss can turn things around and that Wenger won't be called upon, even if he would fit in well with the German giants.  
"For that [Wenger to Bayern] to happen, Niko Kovac would have to be sacked first," he said. "And I wish him good luck.  
"These are situations that you must overcome. Especially at a club like Bayern."