KPL
Sony Sugar coach fumes at poor officiating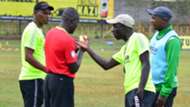 Sony Sugar head coach Babu Salim believes poor officiating contributed to his team's loss to Thika United on Wednesday.
Onwudi Chibueze's strike was enough to hand the milkmen maximum points and as a matter of fact renewed their survival hopes.
However, the scorer and defender Alfred Onyango were sent off after an off-the-ball incident, a decision that left Babu fuming at officials.
"My player was not at fault. Why was he sent off?" posed Babu.
"He was kicked by Chibueze and to my dismay, both were sent off, The referee played a part in our lose and I am not happy about it.
"It is quite unfortunate, but again, it is not the first time he is making a wrong decision.
"We have no option, but win our remaining matches, we have to ensure no dropping of points again."
Sony are currently placed in 11th with 36points.