Ligi kuu Bara
Simba's Laudit Mavugo ineligible for Caf Confederation Cup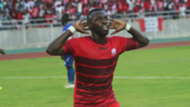 The Confederation of African Football (CAF) has ruled out the Burundian Striker from the competition and he will not feature for Simba in an ongoing African tournaments, Laudit Mavugo was in the list of Simba's squad which will participate in the ongoing African tournaments.
Mavugo who joined Simba in 2016 is now forced to watch from stand as his team play in international tournaments but may join them if they qualify for group stage.
Simba head coach Pierre Lechantre will now depend on two strikers, Emmanuel Okwi and John Bocco only, he also have Nicholas Gyan and Moses Kitandu ni the squad.
Simba acting vice president Idd Kajuna said that the missing of Mavugo would cost the team because it will remain with two strikers only.
"It's true that Mavugo will not join us in Confederation cup because of some minor errors in his registration that have been pointed out by CAF, but we will reset and use him in group stage," he was quoted with to Kona ya Michezo.
Laudit Mavugo was also missing in the Simba squad that faced Gendarmerie.