Azam
Simba and Yanga fight for Yakubu's signature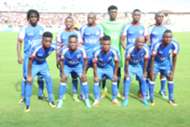 Azam FC defender Yakubu Mohamed has reportedly emerged as a transfer target for both Yanga and Simba.
The Ghanaian international has not been involved in the Premier League for the Ice-Cream maker since October, 2017 due to ankle injury.
Speaking to Goal, Yakubu said that he has one year left on his contract so all suitors must follow procedure.
"It is a good thing to play for Simba or Yanga because they are big teams in Tanzania I still have a contract with my current club Azam FC, and if they need me they have to follow necessary procedures," said Yakubu.
The duo is monitoring Yakubu's situation at Azam FC, and looks like there could be a bidding war for his services.