Friendlies
Sebastien Migne admits Harambee Stars have a long way to go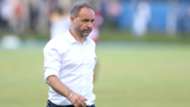 Harambee Stars coach Sebastien Migne has admitted that there is a lot of ground to be covered before the national team can start challenging for their space in the table of the big boys in African football.
Migne, who signed a three-year contract as the Stars' boss, picked his maiden victory in his second shot after Stars downed Equatorial Guinea 1-0 in a friendly played on Monday.
The Frenchman's reign was ushered in by a lose to Swaziland on Friday, but he picked himself up from the rubble to register a maiden victory, thanks to Piston Mutamba's lone strike.
"Nothing is perfect. We have a lot of work to do. Don't forget, we are far, but we have a lot of new players in the team.
"We need time to build something, but we are on the right way. We have a global vision, not only Ghana,"
Stars are preparing to take on Ghana in September during the Africa Cup of Nations Qualifiers in September. Migne will have time with his players during the Four-Nations tournament in India.