African All Stars
Mohamed Salah did not 'even need half an hour' to settle at Liverpool, says Klopp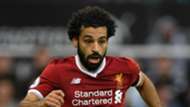 Liverpool manager Jurgen Klopp has praised Mohamed Salah's contributions to his side so far this season and says the winger did not 'even need half an hour' to settle in at the club.
The Reds made the Egypt international their record signing when they bought him from Roma in the summer and the winger is proving to be an excellent signing with his displays for the Merseyside outfit.
Salah 6/1 first scorer v Spurs
Salah has scored eight goals in 13 appearances in all competitions so far this season and the Kop boss has attributed this to the fact that the winger settled in quickly within the squad while hoping he stays fit as he is an integral part of his plans this season.
"He has quality, there is no doubt about it," Klopp told club website.
"I think he needed half an hour at Watford, around about, and that was it.
"At Watford, the first few challenges, it looked like he's not heavy enough, not strong enough, whatever, for these challenges. In the league, it can be difficult, but from this moment on, he was in the league. That's most important.
"It was a fantastic job of the scouting department; it's not that I didn't know Mo Salah, of course - everybody knew him. I've known him since he was at Basel, but to see his development in different things and we them all together had to make the judgment, how can we compare the Italian league with the English Premier League and stuff like this. All the rest is Mo Salah.
"He is a fantastic boy and always it helps if you settle as a person very quickly, perhaps you then settle as a player. I don't think he needed even half an hour to settle in the team – that was fantastic from the first day.
"Hopefully he can stay fit, which would be very important for us. OK, Egypt is qualified but I don't think they give him a lot of rest. He is the man in Egypt, like Sadio in Senegal. So, I am always a little bit afraid when they are away, different pitches, long trips, long travels and stuff like this – but so far it went well and hopefully it stays like this."
Salah will be looking to help eighth-placed Liverpool pick up their fourth League win of the season when they visit Wembley to play third-placed Tottenham on Sunday.