South Africa
Safa planning to launch national women's league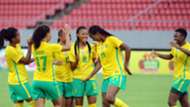 South African Football Association president Danny Jordaan has announced the association's plans to launch a national women's league.
The former executive mayor of Nelson Mandela metro council and his committee briefed the media on the progress of 'Vision 2022' and underlined the associations' budget plans for the expected record pre-tax revenue of R810 million.
Jordaan would then announce Safa's plans to establish a national women's league in order to aid and facilitate the progress of Banyana Banyana. 
He said the organisation would focus on development streams and to professionalise women's soccer and revealed that a full plan to develop women's soccer will be presented to the national executive committee for approval in due time.
"After a workshop in Durban, we reached a decision that we must form a national league for women's football because when Banyana plays, the players are selected from the Sasol squad, which is the provincial squad," Jordaan told reporters.
"All national teams are selected from the national league, but in the case of women's football, we have provincial leagues, no national league, national team and international qualification.
"Therefore, that gap- when Vera Pauw was here she said we have to address that gap because when we last went to the Olympics, I think they were in camp for four months.
"She explained that she needed that time to take the players from a level of provincial participation to international participation. So it takes more time and of course, investment to keep the players in camp for four months.
"The question then is, shouldn't we be looking at investing in a national league so that we can have our national team directly from the national league?"
The proposed league is expected to compose of 12 participating teams. Nine provincial teams together with the winner of a university women's league competition with Mamelodi Sundowns and Bloemfontein Celtic making up the balance of the league "as they already have professional women's soccer teams".
In closure, Jordaan reiterated that the growth of women's soccer was an international phenomenon, and such was shown by the enthusiasm from various high-profile women's national soccer coaches currently interested in taking over the Desiree Ellis at Banyana.
Safa will carry this is a proposal through to the NEC in July and are looking towards the end of the year for the launch of the league.