Manchester City
Rowing with staff and playing against nobody - Given lifts the lid on 'weird' Mancini methods at Man City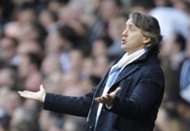 Manchester City may be enjoying life with Pep Guardiola, but Shay Given has revealed that the club endured a "weird" spell under Roberto Mancini.
The Italian arrived at the Etihad Stadium in December 2009 and would oversee an FA Cup win and Premier League title triumph during his time in England.
On the field, Mancini helped to turn City into the global heavyweight they are today, but away from it, he could be a disruptive influence and a man whose actions ultimately led to his unceremonious sacking in May 2013.
Former goalkeeper Given says that a coach now in charge of Russian outfit Zenit was a difficult personality to work for, with his argumentative attitude undermining all of the positive work being done at the club.
The ex-Republic of Ireland international, who spent two-and-half years with City, told Off The Ball: "It was weird because he used to come in on his bike every morning and the physio would give him a report – who's training and who is not training. You would just see him go into one, fighting and rowing and cursing.
"The guy is obviously a professional physiotherapist who has studied all of these different things and he's telling him: "You're wrong." It was weird.
"If you're a manager at any level, you want to get the best out of people and I don't understand why shouting at people and putting them down all of the time gets the best out of people.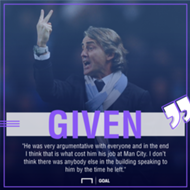 "He was very argumentative with everyone, not just myself, and in the end, I think that is what cost him his job at Man City. I don't think there was anybody else in the building speaking to him by the time he left.
"You should be getting on with more people because you want these people to run through walls for you and he was having the opposite effect."
It was not just the backroom staff that were left bemused by Mancini's methods, with Given conceding that the players were baffled by a penchant for working against 'ghosts' in training.
"You couldn't make it up," he added.
"His very first training session he got the ball and threw it to me and I had to pass it to the full-back, back to me, back to the other side.
"Then we would go through the lines of the pitch and Carlos Tevez or whoever goes in and finishes it into an empty net, there's not even an opposition goalkeeper. Then we would do it again.
"It was all a bit weird. I don't even know from a coaching point of view what the benefit was from that. There weren't even mannequins, you were playing nobody!
"We were brilliant against nobody on a Thursday and it got a bit more complicated when there were some players against us on a Saturday."
Since leaving City, Mancini has worked at Galatasaray, Inter and Zenit.
He has been heavily linked with a return to England – with Leicester reported to have been keen on a couple of occasions – but no deal has been done as yet.