Cristiano Ronaldo
'Ronaldo is better than Messi' - Bernardeschi sees Juventus team-mate 'a step above' rivals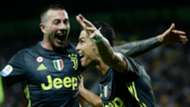 Cristiano Ronaldo is "the best in the world", according to Federico Bernardeschi, with a Juventus colleague of the Portuguese superstar admitting that he has "always preferred him to Lionel Messi".
For over a decade now, two modern day icons have been locked in a battle for global supremacy, with 10 Ballons d'Or and countless other major honours shared between them.
Their duel promises to continue for many years yet, with former Real Madrid star Ronaldo having taken on a new challenge this summer after trading life alongside Barcelona talisman Messi in La Liga for that at Serie A giants Juve.
Bernardeschi is delighted to have the 33-year-old in Turin, telling Tuttosport: "We all know Ronaldo the player and personally I've always considered him the best in the world.
"I've always preferred him to Messi. What I've discovered is that he's an exceptional person, a humble lad with extraordinary personality which he transmits to everyone. It's infectious. It's in that regard that I've always preferred him to Messi.
"I remember the final of the European Championships when he had to go off injured in the first half, but on the bench he was an added coach."
Bernardeschi added on the qualities that Ronaldo brings to the fold: "Juve was already an extraordinary club in terms of a winning mentality, with nothing to learn from anyone, but the arrival of Cristiano brought something more.
"Just think about his red card against Valencia: the fact he's won five Champions Leagues and five Ballons d'Or and cried because he was sent off tells you a lot about his passion.
"I went over to him to tell him to be calm, because he's the best in the world and I didn't want to see him cry. He didn't deserve it because it really was an unjust red card.
"Having Ronaldo close is an example for the youngsters, even at a great club like Juve. You have to be intelligent, you're training with the best player in the world and if you're lucky enough to do that you need to try and steal a few things.
"It's like riding a wave, he has helped me and still is. He's an example to follow, obviously staying firm on your personality and objectives."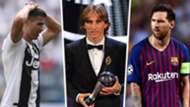 Ronaldo's departure from Madrid has left Real trying to fill some sizeable boots, with Julen Lopetegui's side making an inconsistent start to their 2018-19 campaign.
They do still have plenty of quality left on their books, but Bernardeschi believes they are weaker for having seen their all-time leading goalscorer leave – even when taking into account Luka Modric's recent triumph at the FIFA Best awards.
The Italy international said on the battle for the 2018 Ballon d'Or: "I think Real Madrid have lost a lot, when the best in the world leaves you feel it. I think he deserves the Ballon d'Or, he also shone at the World Cup. He scored a hat-trick against Spain and not everyone can do that.
"Modric is a champion, but if I have to judge an individual award then, in my opinion, Cristiano made the difference in everything, also on a human level.
"He's a step above the others, over the past 10 years he and Messi have been so superior that there's no contest. When they retire someone else can win."