Indian Super League
Roadmap for Indian football: Kolkata clubs to not bid for the tender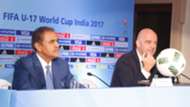 The All India Football Federation (AIFF) president Praful Patel informed the Kolkata clubs on Saturday of a tendering process which is expected to be announced in the next two weeks in order to be a part of the Indian Super League (ISL) next season.
The ISL, which has had eight franchisees for the opening three editions, could see the addition of at least two more entities which would be decided through a tender, as was informed by the AIFF and their commercial and marketing partners, IMG-Reliance in May last year.
Sundar Raman on Indian football's roadmap
With India moving to a three-tiered league system from next season, Mohun Bagan and East Bengal have spoken of their desire to be part of the country's top division league.
Although Patel has come on record to state that the I-League is the official league of India, there is a good chance that ISL participants would also get a chance to compete in the continental competitions of the Asian Football Confederation (AFC) of which the dynamics are being worked upon by the senior management of the AIFF, IMG-Reliance and the AFC.
Gianni Infantino on Roadmap for Indian football: I'm sure compromises will be found
"Patel informed the Kolkata clubs that the tender will be out soon. The clubs responded by stating that they will not fill up the tender," informed an AIFF official, who was in attendance at Patel's residence where the meeting between Indian FA officials and Kolkata teams convened.
As of now, this would mean that Mohun Bagan and East Bengal could possibly miss out on a berth in the world's third highest attended league.