Transfers
Ricardo Katza leaves SuperSport United after 15 years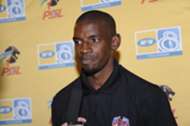 SuperSport United have confirmed the departure of academy coach and long-time servant of the club Ricardo Katza.
The 40-year-old, who was a solid centre-back during his heyday, has spent 15 years with the club as player and coach after joining the Tshwane-based outfit in 2003. Katza eventually hung up his boots in 2012 and went onto play an influential role in SuperSport's acclaimed academy.
However, despite earning the right to be a SuperSport legend, the club have now confirmed that he has accepted the role to be the director of football at Grey College in Bloemfontein.  
"I have been with SuperSport United for 15 years and it has a been a successful journey both as a player and coach. I am grateful towards the club for allowing me to be part of the Matsatsantsa family not only as a player but as a coach and in life as a person," Katza was quoted as saying in a press release issued by the club.
"I have decided to move on to challenge myself with the amount of experience I have learned during my stay at United," he added.
Meanwhile, club CEO Stanley Matthews has reserved praise for one of SuperSport's most iconic players.
"Ricardo has earned his place as a legend at Supersport United. As a former captain, he helped us make a record 5 consecutive domestic Cup Finals as well as lift the League Championship for 3 consecutive years," Matthews explained.
"He is the second most capped player at Supersport United in our history and beyond his achievements on the field, he has conducted himself as a true professional and family man for a decade a half," he added.
"He is a true role model of a person and a player who was determined to improve his life, live a responsible and disciplined life and prioritize his lovely wife Adelaide and his kids in his decision-making processes," he explained.
"His move into the Academy structures was smooth and he acquitted himself up and down our Academy structures from Under 15 to our MDC team and first team. Ricardo will always have a special place in the annals of Supersport United history and we wish him and his family well in their new venture in Bloemfontein and in his promising career which lies ahead," Matthews concluded