Opinion
Research, Regulation and Development – a three-pronged approach for African football?
Research Fellow & Academic Project Manager at the CIES (International Center for Sport Studies)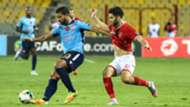 ---
FEATURE: KEVIN TALLEC MARSTON        
---
As Africa prepares to crown its club champion for its 53rd edition – which will be one of two powerhouses Al-Ahly or Wydad Casablanca – it is the time to reflect on the state of club football across the continent.
First, a striking observation: only two teams from south of the Sahara reached the quarterfinal stage while the other six clubs all hailed from North Africa.
The glaring absence of teams from all regions beyond the group stage leaves us to wonder if African club football is heading towards a disturbing trend of polarization and competitive imbalance.
Admittedly, the last couple of editions prior to the recent competition reforms saw a more geographically balanced winner and runners-up circle.
Historically, Africa has seen twenty-six different title-holders since the start of continental tournament in 1965 with only three clubs having won more than three times.
In comparison with Europe and its widely recognized Uefa Champions League, the competition north of the Mediterranean, which is incidentally ten years older, has been dominated by a much smaller group of clubs (six teams have won four or more times with Real Madrid taking the trophy an impressive twelve times).
So should we be concerned about African football widening the gap between a small clique of winners and the rest? And, if so, what can be done?
Three words: research, regulation and development.
In normal industry markets the control by monopolies is generally considered as negative for the consumer as well as for the market itself.
The parallel in football, of course, is the market for sporting results and championships.
Therefore, in the interests of the development of football across the entire continent, it is important to maintain a competitive football market and avoid monopoly dominance by a select few clubs.
Now, how do we know if the football market in Africa is moving towards competitive imbalance and control by a few "monopoly" clubs?
---
RESEARCH
---
Research is the key.
The only way for clubs, national leagues and associations - as well as Caf - to know the situation is to regularly monitor a variety of indicators that can measure how competitive the football markets on the continent are.
The challenge in football, of course, is that there is not one single market.
National markets provide access to continental ones and so research must evaluate performance, club and league structures both at national and confederation level.
At national and continental level, many measures can be used to benchmark club performance within their own country as well as across the continent.
Beyond the obvious overall results tables, other sporting indicators can be helpful such as the point spread between top and bottom teams in a league, the points per game (PPG) of championship teams in comparison to other clubs or more analytics-driven measures like expected goals (xG).
In addition, other contextual factors such as attendances, TV rights values and, specifically, how the amounts are split between clubs at national and continental level can shed all some light on how healthy the competition is in a given league or even across countries.
One example, based on a ten-country sample of African leagues over the last twenty years shows that the overall point spread between top and bottom clubs in national leagues has actually decreased, suggesting that there may not be a growing imbalance within those national leagues at least as regards to the end-of-season table. With more research we would be able to piece together a fuller picture of the state of African club football.
---
REGULATION
---
With data in hand, the second aspect is how football is regulated. The shared roles of the national association, confederation and Fifa center largely on the regulation of football within their geographic limitations.
Different areas of football are regulated in different ways. For example, labor relations fall under regulatory instruments such as the transfer system, player contracts and collective bargaining agreements.
Clubs can be regulated by tools like 'Fifa Club Licensing' – a new system spreading across the African continent under Caf's supervision – which serves as a kind of division of government registering and regulating who can act in the marketplace and according to what rules.
For example, Uefa, which was the first confederation to apply Club Licensing, has credited its Club Licensing and Financial Fair Play rules with solving some key problems in club football such as reducing overall club debt and overdue payables towards other clubs, employees or even tax/social authorities.
---
DEVELOPMENT     
---
But having research and regulation in place does not end there.
Development, which remains one of the core missions for any sport organization, can build on the data from research and the regulatory methods implemented.
Club Licensing, for example, is also a development tool used to professionalize the game across clubs.
With data that benchmarks clubs across a host of different measures, the national or continental regulator can target specific areas to improve, for example, club administration, support to women's or youth teams or stadium security provisions.
Then, by enforcing minimum requirements for access to competitions, a national association or confederation can actually have direct impact in raising the standards across its geographic area.
The stakes are not just financial or sporting and could help avoid tragedies like the fans killed last July after a wall collapsed at the Senegalese league cup final or in the stampede at the Soweto derby.
Just like doctors regularly monitor specific indicators to evaluate the state of our health as individuals, football needs continuous research in order to gauge its sporting health.
With that information, football's leaders can then decide how best to regulate (or not) different parts of the sport and, perhaps most importantly, what priorities to set in regards to developing the game.
Research, regulation and development, if used together, could serve as a roadmap for the future of African football players, clubs, leagues, national associations and Caf itself.
Dr Kevin Tallec Marston works as Research Fellow and Academic Project Manager at the CIES (International Center for Sport Studies) in Neuchâtel, Switzerland. He oversees research and writes on topics such as benchmarking in global club football, sport governance, and youth football and has recently published a book on labor relations in global football - Governance relationships in football between management and labour (CIES: 2017, 176p.)
The application process for the 19th Edition (2018-2019) of the FIFA Master offered by the CIES is now open. 5 Star "FIFA Master" named as the top postgraduate sports management course in Europe for a record 5th time  in 2017