Selangor
redONE providing more than just financial support to Selangor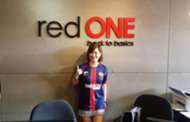 ---
BY        ZULHILMI ZAINAL       Follow on Twitter
---
Following the Selangor state government's decision not to continue funding the Selangor football team after the 2016 season ended, former Malaysian champions the Red Giants have been relying on corporate sponsorships in order to fund their operations.
To the delight of their fans, the start of the 2018 season particularly has seen the club more active in acquiring corporate funding, with a number of household brands across several sectors providing financial support to the 33-time Malaysia Cup champions.
One of such brands is Malaysian telecommunications company redONE, whose name is emblazoned prominently across the front of 2018 Selangor kits.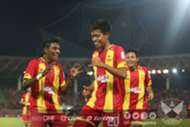 The company has also been active in their promotion of the team, hosting meet-and-greet sessions for the fans with their favourite Selangor stars.
Last weekend, Goal attended one such event and was able to talk to the company's marketing and communications manager; Grace Quah, who told us that financial returns are not the company's main objective of their sponsorship of Selangor.
"One of the things about redONE is that we organise corporate social responsibility (CSR) programmes that look at local sporting talents. And we believe that in sports, there are no individuals. There is no Chinese, no Malays nor Indians; we are simply Malaysians. We have a vested interest in developing local sporting talents so they can go up to the national level.
"We have previously sponsored Kelantan, but other than football we also sponsor badminton, and squash. This year Selangor look like they need a little bit more help, not necessarily in terms of funding, but also with branding. They are a very young team this season and the players need help to reach maturity and to get the national team call-up. That's why we have come in as one of their main sponsors," explained Grace in the event that was held in Kajang on Saturday.
She however declined to divulge the amount of funding received by Selangor from redONE this season when asked, explaining that the support received by the club from the company is not just monetary.
"We do provide the club with monetary sponsorship but I cannot reveal the amount," she said with a coy smile.
"The major way redONE is supporting them is by looking at ways to help the team get more money, not just [directly] from us. For example, we offer these special data plans that come with Selangor jerseys, which supports the team by providing them branding opprtunities.
"Our meet-and-greet events for example are a good opportunity for the players to connect with their fans on a more personal level."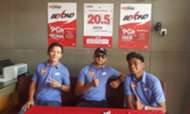 Selangor players Joseph Kalang Tie, Khairulazhan Khalid and Sean Selvaraj attending the meet-and-greet event. Photo by Zulhilmi Zainal