Mexico
Rafa Marquez planning to retire after World Cup in Russia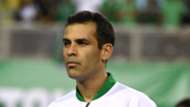 The 2018 World Cup will likely be the end of an era for the Mexico national team.
Mexico captain Rafa Marquez, who made his professional debut in 1996 and has played with the national team since the following year, is planning to call it quits. 
Marquez, Araujo fit for Confederations Cup roster
"My idea is to get to the World Cup and maybe retire from there," he told Sputnik Mundo "For sure I'll still be in professional football, I don't know how, as a coach or director, but as a player I'll end my career after the World Cup."
The 38-year-old has played in four World Cups and wore the captain's armband for El Tri in at least one game at each World Cup at which he's played. Despite his age, he continues to be a key player for both club and country, though a back injury suffered in a World Cup qualifier against Costa Rica in March sidelined him until this month.
Marquez, who has played at defensive midfielder and center back during his career, won a league title with Monaco, four league crowns and two UEFA Champions Leagues with Barcelona and helped Leon to a bicampeonato upon his return to Mexico. On the international level, he was part of Mexico's 1999 Confederations Cup title and the 2003 and 2011 Gold Cup-winning teams.
If Marquez is able to play in the 2018 tournament, he'll become just the second Mexican to do so. Famed goalkeeper Antonio "Tota" Carbajal played at least one match in every World Cup from 1950-1966.
Mexico stays fresh ahead of U.S. clash
Though his sights are set on 2018, Marquez will first travel to Russia this month for the Confederations Cup and, according to the agency, is expecting plenty of excitement for this year's competition.
"Russia is going to have all eyes on it because the next year it will be the site of the World Cup and you can see how everything works, the quality of the stadiums, the quality of all the organization," he said.