Christian Pulisic
Pulisic's game-changing qualities lauded ahead of USMNT outing against England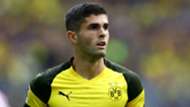 Christian Pulisic gives those around him a "confidence boost", says United States team-mate Weston McKennie, with the Borussia Dortmund midfielder considered to boast game-changing qualities.
At just 20 years of age, a man who left his homeland in 2015 to chase the dream in Europe is having to shoulder an ever-increasing workload with his country.
The USA look to Pulisic for creative inspiration, with his performances in Germany proving that he can be a talismanic presence.
McKennie, who plays his club football in the Bundesliga alongside a fellow countryman at Schalke, believes the youngster can reach the very top of the game and further underline his quality in upcoming international outings against England and Italy.
He told Sports Illustrated: "We've been pretty good lately, but I think we need a little bit more creativity in the final third, and a few more players who like to go one-on-one with players.
"Christian is the type of player, when you see him out wide with the ball, you know he's going to get by the player 95 per cent of the time. He'll find a way.
"That's something that will definitely help our team and give us a little confidence boost.
"There are always players that whenever they're on the field with you, you feel comfortable with. Players you can count on, players you just believe in a little bit more. Christian is one of those players."
Pulisic will be required to lead by example again for the United States in their next two outings, but he is not the only one looking to impress.
McKennie concedes that Dave Sarachan's side will be underdogs against European heavyweights, but he also believes that an American side going through a rebuilding process are capable of holding their own.
"Many people are going into these games thinking, 'OK, they're going to get blown away,' or, 'It's England, they just almost won the World Cup, and it's Italy, a powerhouse,' but going into these games as young players, it's definitely a good experience to get that under our belt and use it to progress for the future," added the versatile 20-year-old.
"It's not every day you get to play against England in London at Wembley Stadium and against Italy. It's a really big opportunity for us to show what the USA can do, and for me to show myself on a really big stage."