PSG
PSG wanted 'movie star' Neymar in 2011 and Modric over Verratti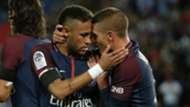 Paris Saint-Germain's record-breaking €222 million deal for Neymar saw them bring a six-year chase to a close, Leonardo has revealed.
The Brazilian forward left Barcelona for the French capital over the summer, but could have been at Parc des Princes several years earlier.
His fellow countryman Leonardo, who worked as PSG's sporting director between 2011 and 2013, claims the Ligue 1 giants had expressed a strong interest in Neymar while he was still on the books at Santos.
He told Canal Plus: "We spoke with Neymar in 2011.
"He was already someone that we saw getting to the level that he is at today, but the plan was for him to stay in Brazil until 2014."
Neymar eventually left his homeland for Barca in 2013, forcing PSG to be patient in their pursuit of the Brazilian.
Leonardo is delighted to now see him in France, but has also been quick to point out that no player can be allowed to grow bigger than the club.
He added: "It's great because we're talking about a charismatic player, a very good player and one who is a bit of a movie star.
"Managing all of that is very important. The club must remain the strongest regardless of whether you are dealing with Neymar or Cristiano Ronaldo. The club must be respected as an institution and it is the club who will guide the project, not Neymar."
Leonardo, who is now back in coaching at Turkish side Antalyaspor, has also revealed that another of PSG's most successful transfer deals almost did not happen.
He helped to lure Italy international Marco Verratti to France from Pescara in 2012, but not before the club was forced to shelve their interest in Luka Modric – who ultimately left Tottenham for Real Madrid.
Leonardo added: "At that moment we were trying to get Modric signed.
"It was not possible because we had signed Thiago Silva and Zlatan Ibrahimovic and Modric was a bit too much.
"So we turned to something more feasible and we were all convinced about Verratti."