Arabian Gulf League
Pro League Committee launches new strategic plan to propel UAE football forward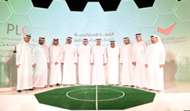 Under the patronage and presence of His Highness Sheikh Nahyan bin Mubarak Al Nahyan, Minister of Culture and Knowledge Development, the Pro League Committee launched a new strategic plan for the period between the years 2017 and 2020.
The plan was launched in a ceremony held at Abu Dhabi's Dusit Thani Hotel on Monday. 
Hazard makes the difference for Chelsea - Cahill
The strategic plan aims to achieve leadership and develop the professionalism matrix in collaboration with the clubs through four main themes; professionalism, partnerships, financial independence and brand. 
The first theme emphasises on raising the level of Emirati professionals and training them to lead clubs and national teams to deliver outstanding achievements on local and international levels. 
The second theme looks at developing strong, fruitful partnerships with partners inside and outside the UAE with the desire and ability to drive professionalism in the UAE forward. 
The third theme aims to activate financing through attracting sponsors and financiers in public and private sectors. The fourth and final theme is concerned with developing the brand into a leading one in the GCC and Asia.
The latest rumours from Man Utd, Chelsea, Arsenal and all the top teams
The strategy includes sub-themes related to clubs' financial performance, aiming to rationalise operating expenses, finding new and diversified revenue sources for clubs through investments, developing relationships with partners and sponsors and maximising football fan base.
It also addresses the corporate aspects to promote sports innovation culture, developing and training qualified cadre, developing and increasing reliance on smart technology, developing systems, policies, administrative and technical regulations and sports marketing and promotion processes.
The PLC formed work teams to oversee implementing the initiatives, programs and projects listed in the strategic plan and following up with clubs and assessing progress. 
To this end, several initiatives will be implemented including smart apps and technology, social media networks, 7-star customer services and sports professionalism culture.