Polls & Quizzes
POLL: Neymar, Pogba or Coutinho - Which superstar is most likely to move clubs this transfer window?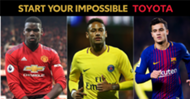 The transfer window has been awash with speculation surrounding three football superstars - Neymar, Paul Pogba and Philippe Coutinho.
Will Neymar make a stunning move back to Barcelona?
Does Paul Pogba's declaration about wanting a new challenge means he heads to Real Madrid?
Is a Liverpool return on the cards for Coutinho?
POLL: Neymar, Pogba or Coutinho - which superstar is most likely to move clubs this transfer window?

— Goal Australia (@GoalAustralia) July 15, 2019