Paul Pogba
Pogba needs to get angry to be world-class at Manchester United, says Paul Ince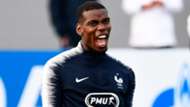 Paul Pogba needs to learn to harness his inner rage if he is to turn around criticism of his performances at Manchester United, according to former club icon Paul Ince.
Pogba still hasn't quite lived up to his £89 million ($118m) price tag as Jose Mourinho's side struggled to compete with a dominant Chelsea and Manchester City sides in consecutive Premier League seasons.
United were 19 points behind Man City in 2018-19 and failed to win any other competitions, after losing in the FA Cup final to Chelsea and being dumped out of the Champions League by Sevilla.
Ince thinks that Pogba is overly targeted for criticism at Old Trafford but that he can do one simple thing to improve his game: get angry.
"Pogba has to play with very good players. He has got to have people on his wave length. I think Pogba gets a lot of stick which is unwarranted," Ince told Goal.
"No one mentions [Alexis] Sanchez or other people but because he came for that certain amount of money, he seems to get a lot of stick.
"Every time he has a bad game, people want to come out and slaughter him. I think that is a bit harsh. I think it is a bit cheap to be fair.
"Pogba has to get back into the flow of English football. People don't know what it is like. I have played in Italian football I know what the tempo of the games is like.
"It is not as quick as it is here. That's why sometimes you see him getting caught on the ball. He thinks he can go at his own leisurely pace. You forget that two years ago he was playing in a Juventus team that was winning every game and winning the Scudetto all the time. He could do what he wants. He could run where he wants and dictate in a 3-5-2 system.
"All of a sudden he comes to a United team that's not as good as the Man City team. Not playing the style of football that the Liverpool team or other teams are playing.
"He has found it hard and that's why he gets caught on the ball. If you put good players around Pogba then you will see him improve and he needs to get angry with himself.
"Me and Roy Keane used to get angry with ourselves just to make ourselves better. If we were playing crap in a game then we used to have a go at each other just for no reason, just to get angry. That's what he needs to do. Pogba needs to get angry because if he does, he will be a world-class player."
Pogba will start for France's opening World Cup game against Australia in Russia and many rank his side among the contenders to win the competition.
Paul Ince is an ambassador for Paddy Power and will be a guest on Paddy's Boat Party which will be broadcast live on Facebook, Twitter and YouTube throughout the World Cup.