PSL
Pitso Mosimane hits back at Bafana Bafana legend Radebe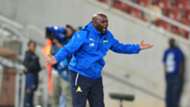 Mamelodi Sundowns head coach Pitso Mosimane has hit back at legendary South African defender Lucas Radebe, who doesn't believe that there is a suitable local candidate for the Bafana Bafana coaching job.

"I don't have a problem [with] who they appoint, but I have a problem when Lucas says there's nobody in the country who should coach Bafana," Mosimane told the reporters.

"I mean really? It's like somebody saying 'there's no player in South Africa who can be a captain of Leeds United.' You know what I'm trying to say? He said there's nobody that can coach Bafana Bafana locally? Okay," he continued.

Mosimane, who is a former Bafana head coach, went on to discuss his recent achievements with Sundowns.

"We just won the [CAF] Champions League, by the way. We just won the [CAF] Super Cup; we just won the league; we just won the Telkom [Knockout Cup]," he said.

"And they say there's no coach who can coach Bafana Bafana? Are you being serious? And look where we come from also, look at the background [of] who was appointed before this [coach], before this one, and this one," he continued.

Mosimane also backed Bidvest Wits head coach Gavin Hunt, who is a three-time PSL title winning coach, for the Bafana coaching job.

"I think 'Hunty' has got more credentials than other people and I understand how he feels. He feels a bit different because everybody takes it in a different way," he added.

"He has not done well in Africa, I understand, it's politics. You can say whatever you want to say, but it's a chicken and an egg story, you know what I'm saying? There's those who come first, we can do that, but on 'Hunty' I feel a little bit that we should have given him a chance and supported him.

"He's done exceptionally well in the country, and for you to say that that there's no coach in South Africa who can coach South Africa is an insult. It's an insult because it says to me also that I'm not capable of coaching Bafana Bafana," he stressed.
"He [Hunt] has done well, hey. He must have a run, hey. He is a good coach. He's disciplined. He's tactically organised and he's won three [league] titles with SuperSport [United]. At Wits he has been second and third [twice in a row], won the MTN8, I mean, what else should he do to get a run at Bafana?"

Portuguese tactician Carlos Queiroz, Frenchman Herve Renard and Dutch coach Ruud Krol have been heavily linked with the Bafana job in recent times.