African All Stars
Philip Azango's heroics seal Europa League spot for AS Trencin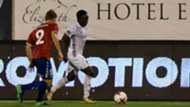 Philip Azango scored an extra-time winner to see AS Trencin defeat Zilina 2-1 in the Slovak Super Liga Europa League play-offs final on Sunday evening.
The winger, 20, opened the scoring for the visitors in the 36th minute but Filip Kasa's effort after the hour mark forced the game into another extra 30 minutes.
With nine minutes into extra time, Azango got the winner to condemn the Štadión Pod Dubňom to a defeat, thus, helping his side qualify for the European competition next season.
#fortunaliga, #playoff, @EuropaLeague #mskzilina - #astrencin 1-2 (100th minute) @astrencin #goal scored #PhilipAzango pic.twitter.com/lVtoPCqjVV

— AS Trenčín (@astrencin) May 27, 2018
Fellow Nigerian youngster Hillary Gong started from the bench following a groin complaint and was introduced in the 74th minute.
Azango's strikes saw him end his maiden campaign in Europe with three goals in 23 league games, with Gong, 19, scoring 11 times in 36 appearances across all competitions.
#fortunaliga, #playoff, @EuropaLeague #mskzilina - #astrencin 1-2 after #overtime pic.twitter.com/siie5zGnt7

— AS Trenčín (@astrencin) May 27, 2018