Transfers
Roberts: I can make it at Man City despite big-money competition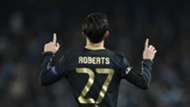 Patrick Roberts revealed Pep Guardiola gave him some words of encouragement after scoring against Manchester City on Tuesday night, and says he is ready to make an impact when he returns to the Etihad Stadium as a City player.
Roberts is on loan at Celtic and appeared to relish scoring against the Blues in the Champions League on Tuesday night.
The winger agreed an 18-month deal with the Scottish champions in January, before Guardiola arrived at City, and his chances of a successful future at the club appear to have been minimised by the summer signings of Leroy Sane and Gabriel Jesus, among others.
But the England youth international, who cost around £11 million last year, says he is in constant contact with his parent club about his progress, and believes he has what it takes to thrive despite the illustrious competition.
"I always believe in myself and my ability and will show it whenever I get the chance," he said. "I want to finish the season strongly with Celtic and see where it goes from there."

Bersant Celina, another City prospect out on loan, has bemoaned the fact the club spent upwards of £70 million on Sane, Jesus, Marlos Moreno and Oleksandar Zinchenko this summer, saying those deals have harmed his prospects of making the grade with the Blues.
But Roberts insists he is not worried by City's summer dealings, and says he has been made to feel like he has a role to play at the club.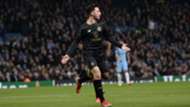 "Not one bit," he said when asked about the big-money competition. "I know what I am capable of. It is about what you do on the pitch, not how much you cost. I will just keep doing what I am doing and we will see what it says at the end of the season."
And he believes he is very much part of City's plans: "Yes, of course. They wouldn't have signed me otherwise. I joined Celtic to play on nights like this. That is the reason I went to Celtic. I couldn't be happier at the moment."

City have a team dedicated to monitoring players they have sent out on loan, and Roberts is still very much on their radar.
"[I speak with them] all the time. They call me, text me. I saw someone [on Monday] and they sat down with me for a while. Someone comes to see me play. I keep in touch all the time. They have been great with me while I have been away.
Buffon's 50-game run comes to an end
"I am sure the manager gets reports. Matches are on TV as well. That is the luxury of being at a club like Celtic. The games are always on TV so you know people can watch."
Guardiola appeared frosty when asked after the match about the chances of Roberts making a successful return to City in future, insisting the decision will be made based on a number of factors rather than just one goal.
But the youngster says Guardiola offered some words of advice after the match: "He just said well done and keep it going. That was nice."