AFC Cup
Pahang slammed for declining AFC Cup spot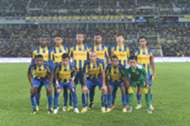 ---
BY        ZULHILMI ZAINAL       Follow on Twitter
---
The Malaysian FA (FAM) technical director Peter De Roo has chastised Pahang for their decision to decline from participating in the 2018 AFC Cup.
Kedah were earlier deemed ineligible to take part in the competition although they had ostensibly won a spot as 2017 FA Cup winners, as they failed to secure the AFC club license required to take part in continental club competitions.
The spot then went automatically to 2017 Super League runners up Pahang who have secured FAM and AFC licences, but on Tuesday the Elephants issued a statement declining a crack at the competition, with the excuse that they want to concentrate fully on the domestic competitions next season.
Later that day, De Roo issued a statement berating Pahang for their decision, saying it has disrespected the Asian Football Confederation (AFC).
"We want football to progress further in the international arena as it would enable us to get maximum exposure at the highest level. Unfortunately however, it would be a difficult task to achieve if the teams do not take international competitions seriously. They are only interested in the domestic competitions and one such example is Pahang. This is the reality of the football scene in this country.
"I have never personally encountered any team in the world who would refuse the opportunity to play in the international stage. The actions of the Pahang team withdrawing themselves from the AFC competition clearly illustrates a lack of respect for the AFC. Such actions may affect the country's rankings as well as compromise the good relationship the FAM has with AFC," wrote the Dutch trainer on the FAM social media.
According to AFC regulations, the spot cannot be handed down to the next eligible club in the league, but if it can be handed down, sixth-place finishers and regular participants Selangor are likely to take Pahang's place. However, the club president told the New Straits Times that they will wait for official communications from FAM.