MLS
Orlando City 2017 MLS season preview: Roster, schedule, national TV info and more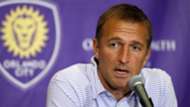 ---

2017 MLS SEASON PREVIEW
---
A tumultuous 2016 saw Orlando City miss out on the postseason for the second straight season. As the Lions move to a new stadium in 2017, the club hopes some stability under head coach Jason Kreis will lead to OCSC's first ever playoff appearance in its third season in MLS.
After a disappointing midseason run the club fired Adrian Heath, the coach who nearly guided the Lions to the postseason in their expansion season of 2015. In came Kreis, who was unable to turn things around enough to reach the playoffs.
With Kreis entering his first full season as OCSC's head coach, the club hopes an injection of badly needed leadership in the form of U.S. international Jonathan Spector and Canadian veteran Will Johnson will help the Lions smooth out some of the turmoil that plagued them last year.
Still, this is a team with plenty of question marks entering the season. Will Spector's presence be enough to stabilize a back line that conceded the most goals in MLS last season? Can Kaka stay healthy for a full season? And how will the club replace Kevin Molino, who was traded to Minnesota United in the offseason.
---
How did Orlando City perform in 2016?
---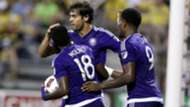 2016 finish: Eighth in Eastern Conference (9-11-14), missed postseason.
With the club's record sitting at 4-4-8 in midseason, Heath was fired and replaced by Kreis two weeks later. Kreis was unable to improve the club's form though, and his 5-6-3 mark was right in line with Heath's record in terms of points per game (1.25 with Heath vs. 1.29 under Kreis). The result? A second consecutive season without playoff soccer in Orlando.  
---
Orlando City's key offseason losses
---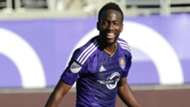 Kevin Molino was one of Orlando City's most important players in 2016, as he scored 11 goals and added eight assists. The 26-year-old has now departed for Minnesota United, reuniting with Heath in a trade that netted Orlando City a staggering $650,000 in allocation money. 
The Trinidad and Tobago international was the club's main loss in the offseason. Other players departing included occasional starters like Julio Baptista, Luke Boden and Pedro Ribeiro. 
---
Orlando City's key offseason additions
---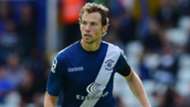 Orlando City desperately needed two things in the offseason: veteran leadership and defensive stability. The Lions hope they've found both in U.S. international Jonathan Spector, who arrives from Championship side Birmingham City. Spector has mostly played right back in his career but will play center back in Orlando to begin 2017.
Kreis will also be reunited with two of his old charges from Real Salt Lake: Defender Donny Toia and midfielder Will Johnson, both of whom should get plenty of minutes in 2017.
---
How will the Orlando City starting lineup look in 2017?
---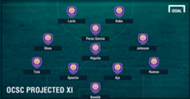 Expect Kreis to stick with his customary 4-4-2 diamond to start the season, though he could eventually shift to a formation that better accommodates the large number of defensive midfielders the club has at its disposal.
Servando Carrasco and/or Antonio Nocerino could move into the starting lineup if Kreis opts for a 4-2-3-1 or 4-3-3 formation. 
In attack, Kaka could play at the tip of the diamond in midfield, or as a withdrawn forward with Cyle Larin in a more advanced position. Carlos Rivas could also be paired with Larin up top, as he was near the end of 2016. 
---
Full Orlando City roster entering the 2017 season
---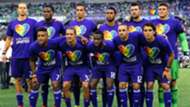 Goalkeepers: Joe Bendik, Earl Edwards Jr., Josh Saunders, Mason Stajduhar
Defenders: Jose Aja, Kevin Alston, Conor Donovan, Victor "PC" Giro, Seb Hines, David Mateos, Rafael Ramos, Tommy Redding, Jonathan Spector, Donny Toia
Midfielders: Servando Carrasco, Cristian Higuita, Kaka, Will Johnson, Richie Laryea, Antonio Nocerino, Matías Pérez García, Tony Rocha, Brek Shea
Forwards: Hadji Berry, Danny Deakin, Cyle Larin, Carlos Rivas
---
Orlando City's national TV coverage schedule
---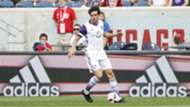 Orlando City vs. New York City FC - Sunday, March 5, 5 p.m. ET on ESPN
Columbus Crew SC vs. Orlando City - Saturday, April 1, 4 p.m. ET on UniMas
Orlando City vs. New York Red Bulls - Sunday, April 9, 4 p.m. ET on ESPN
Orlando City vs. LA Galaxy - Saturday, April 15, 3 p.m. ET on FOX
New York City FC vs. Orlando City - Sunday, April 23, 1:30 p.m. ET on FS1
Orlando City vs. Colorado Rapids - Saturday, April 29, 4 p.m. ET on UniMas
Orlando City vs. New York City FC - Sunday, May 21, 7 p.m. ET on FS1
Orlando City vs. Chicago Fire - Sunday, June 4, 7:30 p.m. ET on FS1
Real Salt Lake vs. Orlando City - Friday, June 30, 9:30 p.m. ET on ESPN
Orlando City vs. Atlanta United FC - Friday, July 21, 7 p.m. ET on ESPN
Atlanta United vs. Orlando City - Saturday, July 30, 4:30 p.m. ET on FOX
Atlanta United FC vs. Orlando City - Saturday, Sept. 16, time TBD on UniMas 
Portland Timbers vs. Orlando City - Sunday, Sept. 24, 8 p.m. ET on FS1
Orlando City vs. FC Dallas - Saturday, Sept. 30, 4 p.m. ET on Univision