African All Stars
Opare's agent blasts Augsburg for 'unprofessional' conduct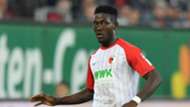 Daniel Opare's agent Chris Nathaniel is livid by Augsburg's "false statements" about his client after the Ghana international was left out of the club's league action on Sunday.
The German side announced sideling the 27-year-old from the fixture as he has "recently shown no loyalty to the values of being down to earth, togetherness, reliability, and honesty, all which the club stand for."
The club has withdrawn its offer of a contract extension at the end of this season, informing the player to search for a new employer.
Nathaniel, however, disagrees with accusation: "I am shocked by the recent false statements about my client Daniel Opare​," he told The Sun.
"​F​irstly​,​ he is still contracted to FC Augsburg and will be ​t​here until the end of the season when his contract ends, so the talk of him being sacked are incorrect.​
​"​I received a call from FC Augsburg on Thursday stating unless my client signed the contract they had offered in two days, he would not play for the club​ again.
"​The offer from the club did not meet my client's requirements and he was subsequently banished from first​-​team activities and even asked to clear his locker,​ which I found petty and unprofessional, considering he has been at the club for some 30 months​."
According to Augsburg Sporting director Stefan Reuter, "Opare has made his position clear and continued to lie to them even when presented with the facts. He has also gone severely against the behaviour code within the team."
Nathaniel added: "​Daniel will continue to train hard and will be available to help the ​club if called upon and it​ i​s ironic his temperament was never put into question before the contract issue.
"​Finally, Daniel has five months on his contract so he is entitled legally to talk with any club​. He is proud to be linked with ​clubs like Leicester​ ​and Schalke but he has been and will continue to be focused on helping Augsburg finish as high in the league as possible whenever called upon​."​